Console Display speed, time, distance, calories and allow you to adjust the speed of the walking belt. It has12 built-in exercise programs that automatically adjust the belt speed throughout the workout + 1 manual + BODY FAT TEST. Include sensors that read your pulse, and have MP3 player input for your entertainment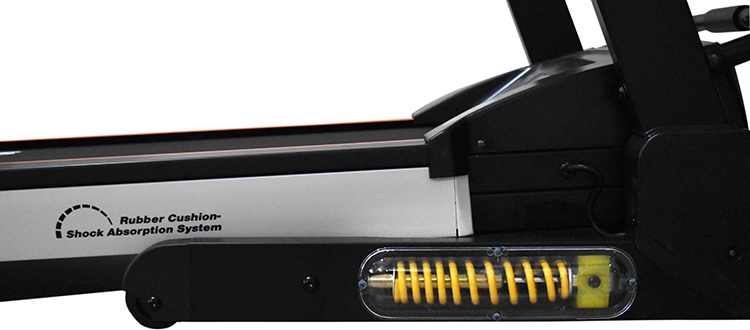 Motor Most of (home use treadmills) in the market ,unfortunately can operate 30-45 minutes at a time to lose fats you need to exercise a longer period, and this dilemma YG 6006 has been provided with strong (1.1-2.2 H.P) DC motor, to be able to use it for an hour at a time without causing any damage to the motor (max user weight 120 kg). Exercise more lose fats more. Running surface The greater width and length of walking surface the greater feeling comfortable The width is important as the length, most of The treadmill suppliers do not care about the width as they care about length both are important. You will know that after you try a treadmill with 40 cm width and this 44cm width it is totally different, more width gives you more freedom during your workout (YG 6006 provided with 42 cm width - 122 cm length Running Belt) More length gives you long comfortable strides.
Auto Lubrication Function
simply press the lubrication button on treadmill console and peace your mind of all lubrication problems
Vibration Unit
The vibration machine has many benefits. It improves circulation and increases blood oxygenation.
Twister board
The twist board is an amazing piece of exercise equipment that has got many health benefits. Improves strength, flexibility, and endurance facilitating balance and co-ordination of the body. And can really help you to get rid of those extra calories hanging loose around your waist and can get you a slimmer waist and tone thighs.
Set up Bench
Set up Bench helps you to do abdominal exercise easier.
Plug and Play function Plug your MP3 jack (included) and listen to your playlist to entertain yourself for better result