AquaWash & Clean - the first wet & dry 3in1 vacuum cleaner from Bosch with a 1,700 W motor - washes carpets, vacuums liquids, vacuums all types of floors.

1700 W motor: excellent cleaning results on all types of floors due to the powerful motor
Parquet brush
High capacity of the dust bag for less changes and cost reduction
Integrated accessories: nozzle for narrow spaces and nozzle for upholstery
Range -9 meters
Accessories specially designed for wet and dry vacuuming

You usually need different appliances when vacuuming wet and dry. The AquaWash & Clean vacuum cleaner includes a range of accessories specially designed for wet and dry cleaning. Now you can wash carpets and upholstery, vacuum liquids and clean parquet and carpets using a single vacuum cleaner.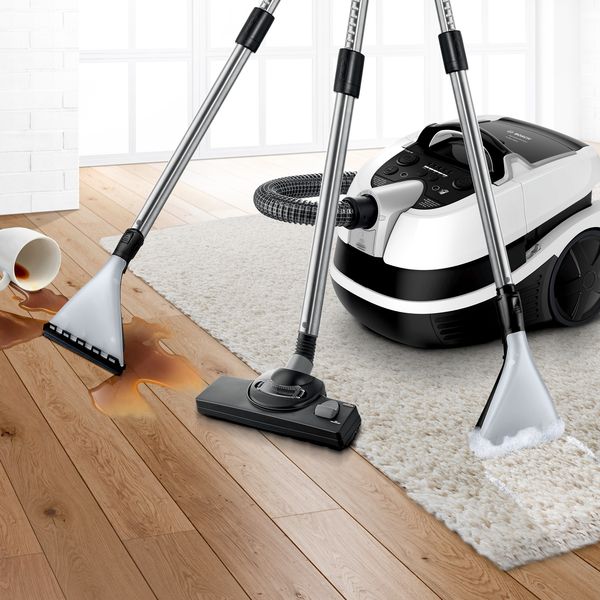 Prolonged cleaning without the need to empty the tank

Do you want to wash all the carpets and upholstery in the house? Thanks to the 5 liter tank, you can clean larger surfaces without interruption. When necessary, the water tank can be easily detached and emptied.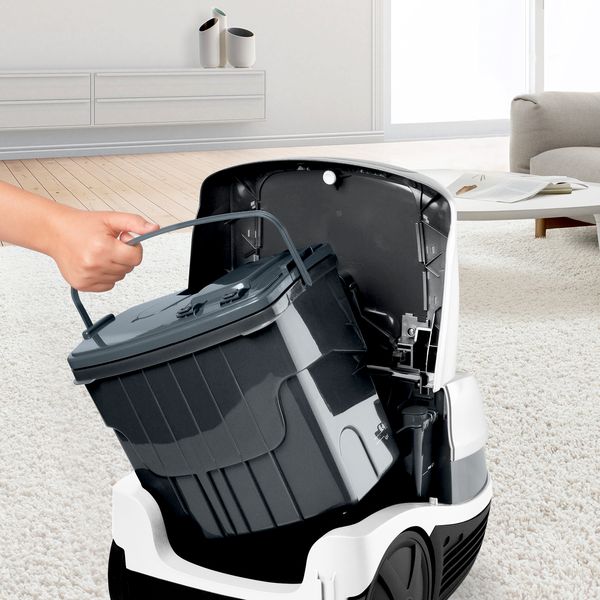 For delicate and efficient suction on parquet and tiles

Parquet and other sensitive surfaces require gentle cleaning. Our parquet brush efficiently and gently sucks all sensitive surfaces of the floor, thanks to its soft natural hair brushes.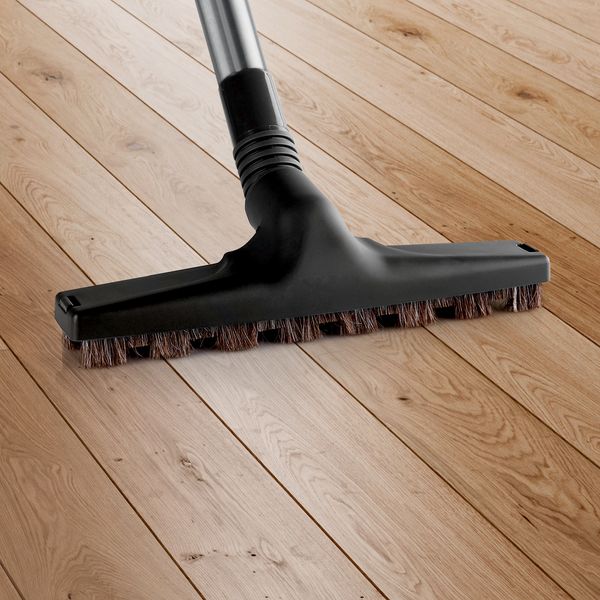 HYGIENE / CLEANING:

Washable EPA filter - easy to clean under running water

COMFORT:

The natural parquet brush ensures delicate care for hard floors.
Flexible and durable hose with woven silk thread
Telescopic tube
Dust bag capacity: 2.5 l
Automatic cable winding
Very large soft wheels to protect hard floors
Telescopic rod mounting bracket for storage
Engine protection filter
Easy handling for disassembling and emptying the dust box
Range: 9 m
Large tank capacity: 5l
Dust tank volume: XL
Accessories: - washing set - water collection nozzle - small brush, small nozzle for narrow spaces
Large washing nozzle - for washing carpets and for vacuuming liquids
Small nozzle - for washing upholstery
Hygienic filter for clean exhaust air
Multifunctional brush

Additional technical information
Basic technical details
Maximum power (W) 1,700 W
Voltage (V) 230 V